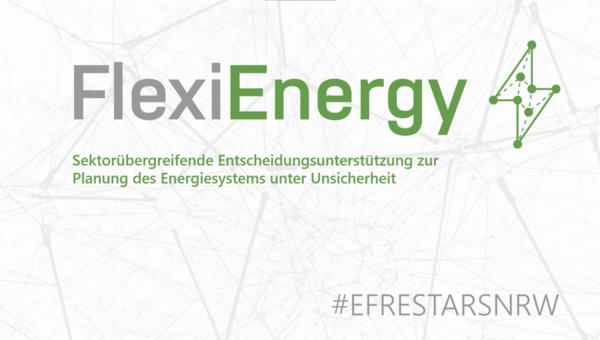 Beitrag des Forschungsprojekts "FlexiEnergy" für den Wettbewerb EFRE.Stars Nordrhein-Westfalen. Video mit Material von Universität Paderborn (SI-Lab), UNITY AG, RZVN Wehr GmbH, Energie Impuls OWL e.V. und Westfalen Weser Netz GmbH.
Welcome to FlexiEnergy!
In the joint project FlexiEnergy, a consortium from research and industry is developing an intelligent decision support system for cross-sector planning of energy networks. The planning tool offers the possibility to use synergies between different energy sources, such as electricity, gas, heat and mobility, and thus to design energy systems more cost-efficiently and with lower CO2 emissions, as well as to ensure the stability of the grids in the future. In addition to recommendations for future grid design, the project will also develop recommendations for the design of business and tariff models as well as regulatory policy recommendations.
Project partner
Funded Partners
Paderborn University
Software Innovation Campus Paderborn (SICP)
Nachhaltige Energiekonzepte (NEK)
RZVN Wehr GmbH
UNITY AG
WestfalenWIND GmbH
Energie Impuls OWL e. V.
Westfalen Weser Netz GmbH
Further information about our partners

Associated Partners
Stadtwerke Dinslaken GmbH
SWB Netz GmbH
SPP GmbH